Code of conduct planned for Cambridge punt touts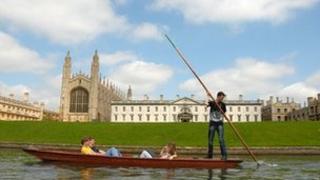 Long-running rivalries between Cambridge punt companies, dubbed "punt wars", could be set to end under plans being considered by the city council.
It hopes a proposed code of conduct and kite mark for "reliable operators" will limit touting by some operators.
Councillor Neil McGovern said it could rid the city of "very annoying" touts.
Lawrence Austen, owner of one company, Granta Punt Hire, said his staff did not tout, but welcomed plans to improve punting's image within the city.
The council has been seeking to limit "aggressive and excessive" touting by some River Cam punt operators for a number of years.
'Cambridge experience'
Mr McGovern said current legislation was "difficult to enforce unless touts were anti-social".
"There's little we can so about polite touting," he said.
A survey carried out by tourism website Visit Cambridge in summer 2011, found an average of 23 touts operating daily in the most popular tourist areas of the city.
Mr McGovern said: "Some people thought it was part of the experience of visiting Cambridge, but a lot of residents and businesses found it very annoying.
"Being approached by every single one can have a really annoying cumulative effect."
The code of conduct would promote best practice and the council is also considering offering more punt operators' tickets through the Tourist Information Centre.
It would be compulsory for companies wishing to promote their businesses in this way to sign up to the code.
Mr McGovern said a kite mark could be introduced to indicate approved operators.
"It would be an indication that the company is reputable, reasonably-priced and doesn't tell tourists a load of lies," he said.