Chittering murder probe: Victim 'had been burgled'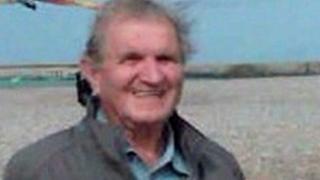 A 76-year-old man found dead at his house in Cambridgeshire is thought to have been murdered during a botched burglary, according to police.
The son of Llywelyn Thomas was taken to his father's home in Ely Road, Chittering, and told detectives a number of items were missing.
Mr Thomas was found dead on 18 December after suffering head injuries.
A man and a woman remain on bail. Mr Thomas had farmed near Bridgend and moved to Cambridgeshire 12 years ago.
Police have identified several valuable items that may have been stolen from the house including four watches: a Seiko Bell-Matic, a rose-gold Roamer, a Tag Heuer with a silver and gold bracelet and a fake stainless steel Breitling.
A silver tea set which was a wedding gift was also stolen.
Detectives believe more than one person would have been present at the house when Mr Thomas was killed, but may not have had any involvement in his death.
Det Supt Jeff Hill said: "I would urge anyone who was in the house on that night to contact police.
"We believe this started out as a burglary which went terribly wrong. There may well be people out there who were in the house and know what happened."
Forensic tests are set to continue for at least two weeks.