Cambridge park and ride 'monopoly' to end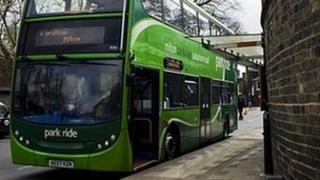 New management of five Cambridge park and ride sites plus open competition for bus operators could save £600,000 per year, the county council says.
The Conservative-led council currently runs the sites itself and the service is operated by Stagecoach.
A council spokesman said it was not recouping its running costs from the operator's contract and encouraging competition was in the public interest.
Stagecoach confirmed it would bid to both manage and operate the service.
Councillor Steve Criswell, cabinet member for community infrastructure, said changes to the city's park and ride operation were necessary to reduce the annual deficit.
The £600,000 per year running costs are currently funded by the council's on-street parking facilities.
'No price hike'
Mr Criswell said the Stagecoach contract would expire at the end of March, and the council would begin a procurement process to appoint an operator to carry out the service.
"We have a very good relationship with Stagecoach and are happy with the service they provide, but I think in the interests of accountability and best value for the tax payer we must open it up to competition."
However, he agreed that it was "not easy for someone to enter a market where an operator already has a monopoly".
Andy Campbell, Stagecoach managing director, said: "We're quite happy to compete and we have a good track record."
He said running both the sites and the buses would enable the company to offer a better service to customers.
He confirmed that fares were likely to rise "in line with inflation and fuel costs" but said it was not in the company's interest to "hike up prices".