Cambridgeshire's Secret Garden Party bids for size increase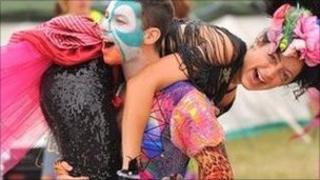 Organisers of a Cambridgeshire festival want to increase its size.
The four-day Secret Garden Party, which takes place in Abbots Ripton, near Huntingdon, last year attracted 26,000 people.
Licence-holder Blackwoodsman Ltd, has applied to Huntingdonshire District Council to increase that to 32,000.
Some residents have reservations but HDC member Robin Howe, said: "No one wants to destroy the festival, but noise controls must be adhered to."
The Secret Garden Party, named the "best medium-sized festival" in the 2011 UK Festival Awards, has been taking place on a private estate in the village since 2004.
'Gradual creep'
One village resident, Pamela Simpson, said she had never experienced any problems, but added "a further few thousand people could potentially increase the risk of criminality".
In the neighbouring village of Kings Ripton, resident Peter Bishop said he objected to the festival's "gradual creep".
"It's growing and growing and it is encroaching on this village. My worry is, where will it stop?" he said.
The organisers have submitted a festival sound management plan and a security plan as part of the application.
Co-founder, Fred Fellowes, said: "Five years ago I would never have imagined the festival getting larger than 10,000 people.
"But we have been told by the landowner that this really is the limit and we wouldn't be granted an agreement for anymore people or anymore land.
"We do honestly believe that this is it."
The district council is expected to consider the application on Thursday.