Man charged in connection with Cambridge University silver theft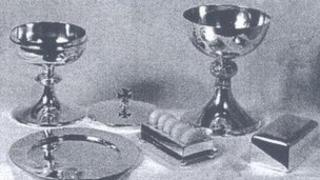 A 37-year-old man has been charged in connection with the theft of silverware from a Cambridge college.
The "very distinctive" altar pieces were stolen from Corpus Christi College chapel on 9 January, while it was open to the public.
The items were retrieved after being taken to a Cambridge antiques centre for valuation.
A man has been charged with handling stolen goods and will appear at Cambridge Magistrates' Court on Friday.
The silverware was returned to the police by antiques dealer Stephen Hunt, after the silverware was brought into his shop to be valued.
He said: "Generally, members of the public do not have religious artefacts and I had an instinct... that this wasn't what we would call 'right'."
Mr Hunt said he purchased the items for "a pittance" before informing the police.