Friends' challenge helps stock Peterborough Soup Kitchen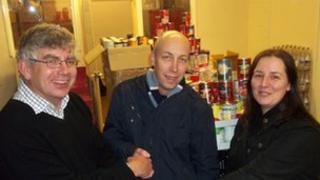 Two Peterborough friends have donated enough cans of food to supply the city's soup kitchen for eight weeks.
A conversation between Ryan Hounsell and Tracy Hough in November resulted in a friendly challenge to see who could collect and donate the most.
They appealed for donations at work and from friends and family, but pleas on Facebook brought the best results.
Mr Hounsell said: "The Facebook thing really took over, and was how we got the tins in."
He added: "People who were friends on Facebook, but maybe I hadn't seen for two or three years, were knocking on the door donating a tin or two."
The "soup-off" challenge arose at a birthday party being held for Mrs Hough's five-year-old.
'Fantastic effort'
The two friends looked at the uneaten food and came up with the challenge "to appease our guilt".
Altogether 830 cans of food and 320 packet soups were collected in the run-up to Christmas.
Ian Davies, the chairman of the Peterborough Soup Kitchen, said: "This is a fantastic effort by all those who donated and helped out in the competition."
The Peterborough Soup Kitchen has fed the city's homeless for 28 years.
Every year its 150 volunteers serve 25,000 cups of soup and 50,000 sandwiches.
Mr Hounsell, who won the challenge between the friends, said: "Every night I'd put up a different picture of soup online, and in the end it worked.
"But it almost doesn't matter that I won. We were most impressed by everyone's support."