Apprentice courses expand in Cambridgeshire to meet demand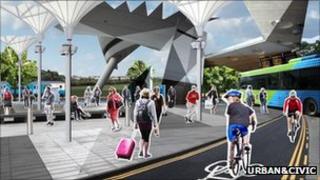 A predicted rise in job opportunities in Cambridgeshire has led a college to expand its apprenticeship programme.
Huntingdonshire Regional College will offer courses from a new centre at the former Alconbury airfield from April.
More than 8,000 jobs are expected to be created after Alconbury was named an "enterprise zone" by the government.
It is hoped work will start on the zone in 2013 and the college said its apprentices would be qualified to fill job opportunities as they arose.
Business development manager at the college, Steve Favell, said: "There are lots of opportunities for jobs in the area and it seemed obvious to us to begin building for the future, there.
"It's not just Alconbury though, we're looking at the many businesses and industries in the area and asking what they need for tomorrow."
'Advanced needs'
Mr Favell said the college had seen a 300% rise in people taking up places on its apprenticeship courses in the past year.
He said the new facility would help the college cope with the increasing demand.
Some of the courses in areas such as management and engineering will be offered at advanced levels four and five.
"This will help to meet the more advanced needs of business and industry in the area," Mr Favell said.
"We've done a lot of market research and we're confident that what we're going to be offering will meet that demand.
"It also means we can provide on-site training for people coming into Alconbury as the zone develops."