Chittering murder probe: 'Protracted forensics' results awaited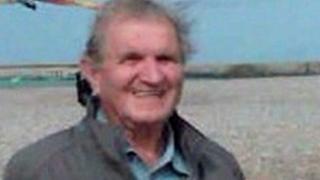 Police investigating the murder of a 76-year-old man in Cambridgeshire say their forensic investigation at the victim's home is almost complete.
Llywelyn Thomas was found dead at his home in Chittering on 18 December after suffering head injuries during what police believe was a botched burglary.
Det Insp Dave Grierson said an "enhanced chemical process" had yielded fingerprints which were being examined.
He added that "other lines of inquiry" were also being followed up.
"It has been a lengthy and protracted investigation," Mr Grierson said.
Isolated location
"We spent a number of weeks at the house examining it forensically and have completed a chemical process inside which enhances fingerprints and other marks.
"This is just one step in that process but we are hopeful that this, or other forensic investigations, plus articles sent off for examination will yield some results that identify who's responsible," he said.
He said the isolated location of Mr Thomas's home had made the inquiry "more difficult" because of a lack of potential witnesses.
However, he confirmed that investigators were also using CCTV, ANPR (Automatic Number Plate Recognition), and speed camera footage from the vicinity as part of the investigation.
At the end of January police released images of watches similar to four they believed were stolen from the victim's home.
Mr Grierson said "at present" they still believed the items had been taken.
He said once forensic examinations had been fully concluded, police would be able to search the property to "ascertain for certain" whether the items were missing.
"We will finish that live inquiry later this week," he added.
Two people remain on bail in connection with the investigation. Mr Thomas had farmed near Bridgend before moving to Cambridgeshire 12 years ago.