'Memorial' trees felled at Cambridgeshire's Magog Wood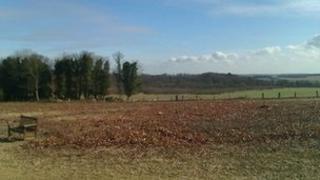 A conservation charity has been criticised for felling about 600 trees which formed part of a "memorial wood" on Magog Down, south of Cambridge.
The Magog Trust said they had to be felled as their roots were threatening a "rare" Neolithic causeway beneath.
David Deacon, who had dedicated two of the trees to his grandchildren, said he had not been told and was "devastated".
The trust said it held records of dedications and would move them to another part of the wood.
The site of the middle Neolithic (2400BC - 3000BC) causewayed enclosure - believed to be an early tribal meeting place - was designated a Scheduled Ancient Monument in 1994 on the basis of aerial photographs taken in the 1960s.
A trust spokesman said by that time the wood had already been planted.
However, following an English Heritage-commissioned survey in 2009, it was decided the trees could endanger the monument.
'Visit my stumps'
Kathleen Foreman, chair of the Magog Trust, said people had been told of the plans at two meetings and notices had been put up on its website and in the wood.
"We knew there were lots people supporting the memorial wood but it was quite impossible for us to contact all of them," she said.
However, Mr Deacon said he had not heard anything about the plans.
"Those trees were so important to us because we had lovely times wandering around with the children while they looked for their numbered trees," he said.
"How do you think the children felt when we took them to the site and all they could find was a stump?"
Georgina Hoar, from Cambridge, said the trees bought for her as a child were also gone.
Another woman who had bought into the scheme said she had expected the land was to be "preserved that way for posterity".
She said she was "going to visit my stumps".
'Most understanding'
Mrs Foreman said: "I think the original wording was that donations were given to support the trees while they were growing.
"At the time we said we could not guarantee the trees would be there forever, because of disease, or thinning, which is part of managing woodland.
She added: "Since doing this we have been contacted by a number of people who have been most understanding, because we are transferring their dedication to the other woods."
Dr Will Fletcher, inspector of ancient monuments for English Heritage in the east of England, said: "Archaeology and trees are not good bedfellows and we would seek to remove trees from monuments to protect the archaeology.
"This is one of the very earliest monuments in Great Britain, pre-dating Stonehenge and there are very few of them.
"What we try to do is protect these very important sites as best we can, and we're now working with the trust to preserve that for the future."