Peterborough boy to receive kidney from his 'super' grandmother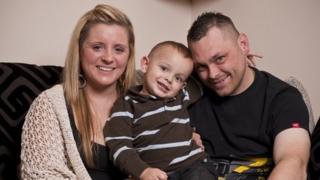 Four-year-old Stevie Plavecz-Maples has never eaten chips, never been swimming, and he's not even allowed to have a bath.
His body cannot process certain foods and his catheter means he can only have showers.
Born with chronic kidney disease (CKD) and a blocked urethra, the Peterborough youngster's only hope of a "normal" life was a kidney transplant.
About 7,000 people in the UK are currently waiting for a transplant, but Stevie is one of the lucky ones.
A potential match - his 48-year-old grandmother, Tracy - has been found.
Multiple transplants
Stevie's mother, Gemma Plavecz, 28, said: "When he was first born, Stevie wouldn't eat and he had a urine infection. An ultrasound scan showed his kidneys were very small.
"He had a blocked urethral valve and we were told that was destroying one of his kidneys."
Eventually, his kidneys stopped functioning.
Stevie had to wait almost three years until he was big enough to receive a transplant in January 2011.
Unfortunately, the kidney failed after two days because of a blood clot.
Without a suitable replacement organ, his only choice was to start dialysis.
Six nights a week, for 10 hours at a time, he is hooked up to the machine.
When mum Gemma and dad, John Maples, 31, went to a donor clinic to see if they might be potential matches, Gemma's mother Tracy asked if she could accompany them.
She was tested first and found to be a possible match.
Kidney Research UK, the Peterborough-based national charity, said it was normal practice to test older family members first.
If the kidney failed in the future, the rationale was that younger members of the family would still be fit and healthy enough to donate if they were also found to be a match.
The average kidney transplant only lasts about 10 to 15 years so it is likely Stevie will need multiple transplants in his lifetime.
'Super nanny'
Grandmother Tracy admitted she was not sure what donating her kidney would involve.
"I don't understand the whole process but we've been going through a lot of tests for several months now," she said.
"I just knew that I could give my grandson a better quality of life. It's a very nice feeling to think I can do something like this for him.
"Nothing's going to stop me now."
Doctors hope that Stevie's second transplant, expected to take place at Nottingham Hospital in May, will be a success.
Professor Neil Turner, chairman of Kidney Research UK, said: "Stevie is fortunate to have a potential donor in the form of his grandmother and the chances of a successful transplant are very high.
"If the operation is successful, Stevie will no longer have to undergo dialysis.
"He should be back on his feet within a couple of weeks - as should his grandmother - and his quality of life will improve dramatically.
'A lot of chips'
"However, while transplantation is currently the best form of treatment available to kidney patients, it's important to stress that it is by no means a cure for kidney disease and much more research is needed if we are to eradicate this devastating illness once and for all."
The charity is hoping to raise global awareness of that message on 8 March,World Kidney Day.
Meanwhile, Gemma said Stevie was getting very excited about his transplant.
"The doctors at Nottingham Hospital have been really good at helping him understand what's going to happen.
"He's got a scar and he knows that's where his old kidney used to be.
"He knows he's got poorly kidneys and he understands when I tell him he can't eat a lot of some things.
"He also knows he's getting his nanny's kidney. She is really brilliant. She's super," she said.
"But, the thing he's really excited about is being able to have a bath.
"He's always had to have showers because of his catheter and he is really looking forward to going swimming - and he wants to eat chips.
"He knows when it happens there are lots more things he'll be able to eat, he won't be so tired and he can run around and play like his friends."
Stevie added: "Do you know how many chips I'm going to have? A lot of chips when I have nanny's kidney."