Fitzwilliam Museum theft: Taxi drivers asked to help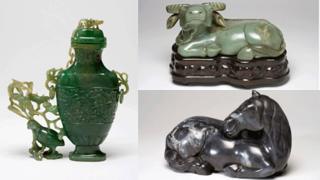 Taxi drivers are being asked for help to find thieves who stole Chinese works of art worth millions of pounds from the Fitzwilliam Museum in Cambridge.
The 18 items stolen, thought to be worth at least £18m, were mostly jade and part of the university museum's permanent collection.
Detectives believe the burglars entered through the back of the building at about 19:30 BST on 13 April.
They want taxi drivers who may have been in the area to come forward.
Det Ch Supt Karen Daber said anniversary checks on Friday, a week on from the theft, show taxi drivers use the back of the museum and side streets as a turning point.
"I would ask taxi drivers to cast their minds back and think about whether they saw or heard anything unusual or suspicious in that area," she said.
'Exceptional crime'
"We are keen to hear from any taxi drivers who may have dropped people off in the area of the Fitzwilliam Museum between 18:00 and 20:00 BST on Friday, 13 April, particularly if they used side streets to turn around."
It is thought a group of up to four people were involved in the theft.
Officers believe they were inside the building for a "matter of minutes" before fleeing in a getaway car.
CCTV from local car parks and park-and-ride facilities is also being checked as part of the inquiry.
A team of 25 officers and staff are working on the investigation, called Operation Tundra, to trace the stolen items.
"This is an exceptional crime and this investigation remains a top priority for the force," Det Ch Supt Daber said.