Work starts on £6.5m council building in Wisbech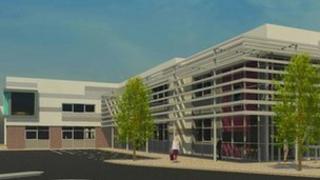 Work has started on a new £6.5m building to house county council area offices for north Cambridgeshire.
Children and young people's services now based at three separate locations in Wisbech will move into the building.
It will be called Awdry House after the Reverend Wilbert Awdry, the creator of the Thomas the Tank Engine books who lived in Emneth just outside the town.
Awdry House, a name chosen by a ballot on the council website, is next to the College of West Anglia.
The council hopes the building will be shared by other organisations.
Leases for the current council offices in Stermyn Street and Churchill Road will not be renewed.
The public will be consulted about the future of the council-owned Queen Mary Centre in Queens Road.
A spokesman for the county council said putting departments into one building was part of its policy of bringing services and agencies under one roof to make them easier for people to access.