Artist breaks link with Peterborough Power Rhythm sculpture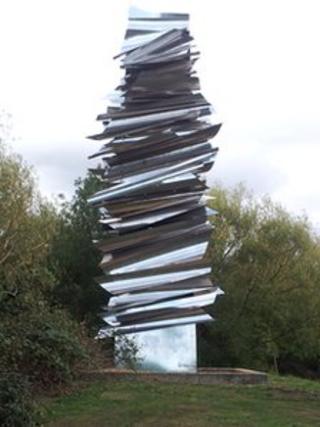 An artist who created a sculpture in Peterborough says he has disassociated himself with the work over claims it has not been properly maintained.
Power Rhythm, a 52ft high (15.8m) stainless steel structure, has stood at the Eye roundabout since 2000.
Robert Erskine claims Peterborough Environmental City Trust (PECT) has failed look after it. He has demanded his name is removed from the work.
PECT said it had cleaned the sculpture and wanted to light up the structure.
Power Rhythm was the winning entry in a national competition to design sculptures for the city and the Nene Valley as part of the SusTrans cycle network.
'Waste of money'
Mr Erskine said he wants to have the name Power Rhythm removed from the sculpture, and all public relations material.
"The sculpture remains incomplete since erection, due to PECT not honouring their own contract to maintain the sculpture, by removing graffiti, provide vandal-proof bonded gravel to its base and connect lighting," said Mr Erskine.
"I think that it is shameful Peterborough's landmark sculpture will be left in the public realm in the state that it is."
He said it had been allowed to become "a waste of money, having no purpose or meaning".
A spokeswoman for PECT said the organisation had agreed to remove Mr Erskine's name (subject to a formal signed agreement) so it could concentrate on improving the sculpture.
"PECT feel that the sculpture, even without name and title, is a great landmark for the city," she said.
"The sculpture was cleaned and all graffiti removed last year, and despite no contractual obligation to do so we have committed to the installation of bonded gravel and are endeavouring to secure funding to light the sculpture."