Chinese tomb treasure exhibition opens at Fitzwilliam Museum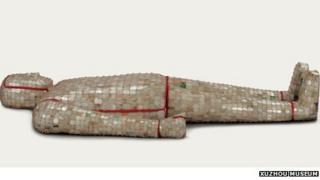 An exhibition of 2,000-year-old Chinese tomb treasure has opened at Cambridge University's Fitzwilliam Museum.
It is the largest exhibition of treasure from royal tombs to travel outside China, a museum spokesman said.
On 13 April, millions of pounds worth of Chinese artefacts were stolen from the museum's permanent collection.
A university spokesman said "appropriate security" was in place for the new exhibition, which will run until 11 November.
The Chinese government has loaned the artefacts to the Fitzwilliam as China's main contribution to the 2012 Cultural Olympiad.
'Superb goldwork'
The exhibition will also compare the tomb contents of two rival power factions, the Han imperial family in north China and the Kingdom of Nanyue in the south.
They include two jade burial suits, a jade cup to catch the morning dew that was said to ensure immortality, pottery soldiers, servants, musicians and a lavatory.
This is the first time the items have been displayed together and the exhibition will not be seen anywhere else outside China.
Dr Timothy Potts, director of the Fitzwilliam Museum, said: "The spectacular objects in this exhibition bring to Cambridge the superb goldwork, jades and other exquisitely crafted offerings the kings chose to be buried with on their journey to the afterlife.
"For their artistry, refinement and pure beauty they rival anything from the ancient world."