Work on Cambridge University's new £16m sports centre begins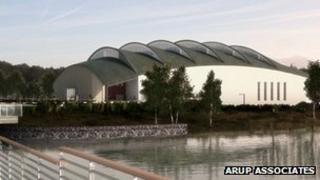 Work has started on a £16m sports centre for Cambridge University, designed for use by both members of the university and the public.
The building, designed by architects Arup Associates, will include two full-size courts for badminton, basketball and other court games.
It will also have fitness suites, cardiovascular equipment, cafes and lounge areas.
The Cambridge Sports Centre is expected to open in late 2013.
Subject to funding, the university hopes it can expand the centre in the future to include sports medicine facilities, a swimming pool and indoor and outdoor tennis courts.
Tony Lemons, director of physical education at the university, said the first phase of the project represented a marked changed "in the quality and scope of sport facilities available to the university population and the local community".
He added: "It will enable the physical education department to significantly expand its educational programmes."
Vice-chancellor of Cambridge University, Professor Sir Leszek Borysiewicz, described the centre as a "key project" for the institution.
"Sport helps the university achieve its mission of pursuing education, learning and research at the highest levels of international excellence," he said.
"This state-of-the-art sports hall will mark a new era for Cambridge sport."