Hobson's Conduit water source in Cambridge will run dry, trust warns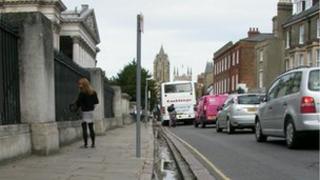 A water source supplying Cambridge University Botanic Garden and some college ponds, could run dry for the first time in its 400-year history.
The Hobson's Conduit Trust, which manages the source through man-made channels into the city, said two dry winters in succession were the cause.
A spokesman said water levels in the source spring were exceptionally low.
Some of the conduit channels have been closed to preserve the remaining water for the garden and college ponds.
Dr Tim Upson, acting director of the Botanic Garden, said: "We are potentially vulnerable to loss of water level should levels drop in the conduit sufficiently."
He said he believed the lake had partially dried out during the 1976 drought, but added that despite further dry summers, its level had been maintained.
'Critical level'
Hobson's Conduit, dating from 1610, was once Cambridge's main fresh water supply system.
It takes water from Nine Wells Spring to the south of the city, through a brook and into Cambridge.
Howard Slatter, chair of Hobson's Conduit Trust, said: "Despite recent rainfall, it is highly likely that Hobson's Brook itself will run dry at some stage during the course of this summer, as the water from the chalk aquifer feeding the springs at Nine Wells falls below its critical level."
The trust has closed the sluices taking water through open channels - or runnels - along Trumpington Street, to preserve supplies to the ponds.
Mr Slatter said although the runnels originally served a purpose - carrying fresh water to flush out a sewage-filled ditch surrounding the city - they were now little more than a "historical curiosity".
He said it was unlikely the sluices would be opened again before spring 2013.
Cambridge Water, which supplies much of the city, supported the trust's decision to restrict supplies.
A spokesman said: "While we have not yet felt it necessary to impose a temporary usage ban, we are encouraging people to use water wisely.
"The decision not to operate the runnels is an example of how this can be achieved."