Fitzwilliam Museum Chinese art theft: Third man bailed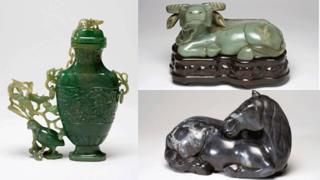 A 31-year-old man from London arrested on Tuesday in connection with a burglary at the Fitzwilliam Museum in Cambridge has been released on bail.
Police investigating the raid at the museum said the man had been arrested on suspicion of money laundering.
He must report back to Thorpe Wood Police Station in Cambridge on 22 May.
Chinese art worth up to £40m was taken. A 28-year-old man and 15-year-old boy have been charged with theft and conspiracy to commit burglary.
Eighteen artefacts taken from the museum on 13 April have been valued at between £10m and £40m.