Swan dubbed Mr Asbo has wings clipped to prevent Cambridge return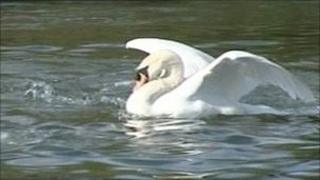 An aggressive swan nicknamed Mr Asbo has had his wings clipped to prevent him returning to his Cambridge home.
He and his mate were moved 60 miles (96km) away from the River Cam after his attacks on rowers escalated.
River managers who oversaw the relocation said clipping was normal to prevent the swans flying back, while they adjusted to their new site.
They said it was a temporary measure and the clipped wings would be replaced by fresh flying feathers in the autumn.
The swans were moved to a sanctuary outside the county under licence from Natural England, at the end of April.
'Flightless swan'
The Conservators of the River Cam arranged for volunteers to relocate the pair after Mr Asbo's attacks - which had taken place since 2009 - became more aggressive.
The swan had reportedly capsized a scull by mounting the craft, and had taken to flying at the outboard motors of larger river vessels.
Paul Stancliffe from the British Trust for Ornithology said: "Clipping the wings - or pinioning - does remove the power of flight, so Mr Asbo will be flightless in his new home.
"But in about August he will moult and all of his flight feathers will be replaced, so a couple of weeks later he'll be able to fly again."
He added: "I don't think he'll forget about Cambridge.
"When swans moult they gather in traditional areas, and that might well be a large body of water near the city.
"From there they usually return to their usual sites for the winter, ready to breed again in the spring."
A spokesman for Natural England said it was satisfied the swans' relocation had been successful.
He added: "They seem very happy there. It's very quiet with nothing to disturb them. I don't think Mr Asbo will be going anywhere."