Peterborough councillor Sheila Scott keeps post after Tyler death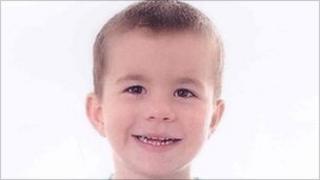 The councillor in charge of children's services at Peterborough City Council has kept her role, despite calls for her to step down after a boy's murder.
Sheila Scott had been in the spotlight since the death of Tyler Whelan, five, in the city in March last year.
His mother's partner, Elvis Lee, 34, was jailed for life on 15 May. A report criticised "missed opportunities" by child protection agencies.
Council leader Marco Cereste said Ms Scott is experienced and should remain.
"She has always run children's services in an orderly fashion, even when things were most difficult she was the one who identified the problems and said 'we need to resolve this'," he added.
"We have done, we're on the way.
"We haven't got it right yet, but we're nearly there - now is not the time to change."
'Not good enough'
Political opponents of the Conservative had called for her to resign ahead of a cabinet reshuffle at a meeting on Wednesday evening.
The local authority had admitted the service it offered Tyler "was not good enough" and said it had made "significant improvements".
John Richards, the director of children's services at the time of Tyler's death, resigned in September 2011 following a critical Ofsted inspection into the protection of children.
It found the service was inadequate and called for urgent improvements.
The department also received an "inadequate" rating in May 2005.
Ms Scott, councillor for Orton with Hampton, was in post when the Ofsted reports were compiled.
She attended the meeting but did not comment further.
'Needs to go'
Labour councillor John Shearman told the BBC ahead of the meeting: "The professional who had oversight for that department, John Richards, resigned immediately and yet Councillor Scott has not seen fit to resign.
"We believe that until she goes no one will have 100% confidence in the political oversight of that department.
"The top professional has gone now the top politician needs to go as well, and very quickly".
A Serious Case Review published after Lee's conviction for murder looked at various child protection agencies and stated there was "concern that no professional ever saw him in the family home".
Although the report's author said there was no evidence to suggest the death could have been prevented, the report condemned a "lack of professional curiosity" among agencies involved.
Tyler Whelan died in hospital after collapsing at home in Paston.
Lee must serve a minimum of 17-and-a-half years in jail, minus time spent in prison on remand.
Tyler's mother, Stephanie Whelan, 27, is to be sentenced at a later date after she was found guilty of causing or allowing her son's death.