Antarctic rations delivered to Cambridge foodbank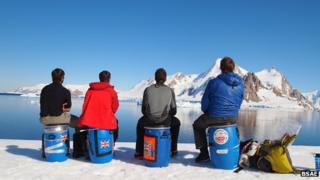 Surplus rations from an armed forces Antarctic expedition have been donated to the Cambridge City Foodbank.
The British Services Antarctic Expedition (BSAE) 2012 coincided with the 100th anniversary of Capt Robert Falcon Scott's South Pole attempt.
Flt Lt Stuart Quinn was one of the 24 men and women who took part.
He said: "Bringing this barrel to Cambridge, the home of the Scott Polar Research Institute, is a fitting place to end our journey."
The ration barrel is made up of dried food , including boil-in-the bag meals, long-life bread, energy drinks, chocolate bars and tea bags.
Angie Campbell, acting project manager for the city foodbank, said: "Although all our donations have a long shelf-life, it's not often we receive food that has been to the end of the world and back again."
BSAE 2012 was the first joint British armed forces expedition to the mainland Antarctic peninsula.
It was inspired by Capt Scott's 1910-1912 expedition, which was not only an attempt to reach the South Pole for the first time, but was also a scientific project.
Rocks collected by Scott and his team on their return journey from the pole confirmed the southern continents were once joined as a super continent.
After two years' training, the BSAE team set off for Antarctica in December and returned home in March.
While there, the team carried out research into global warming.
Help in crisis
Cambridge City Foodbank is a charitable trust run by a partnership of three churches.
In May it gave 148 boxes of tinned and dried food to people in financial crisis due to unemployment, benefit delays, debt or sickness.
Ms Campbell said demand for help was rising: "In May last year we gave out 75 boxes."
In addition to the Antarctic rations, the foodbank will receive a second barrel of non-perishable food, donated by staff and families at RAF Honington, where Flt Lt Quinn is stationed.
He said: "We're glad to put the extra rations to good use and the foodbank is such a worthwhile cause."