Littlehey inmates refurbish bicycles in 'payback' scheme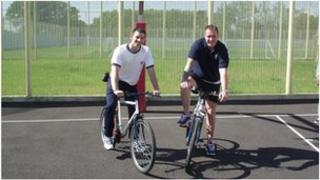 Inmates from HMP Littlehey in Cambridgeshire have been refurbishing run-down bicycles recovered by police, before they are donated to charities.
Chief Constable Simon Parr said the scheme was part of a "restorative justice agenda" enabling prisoners to provide a community service.
In May the Independent Monitoring Board expressed concern about a lack of "meaningful activity" for some inmates.
Governor David Taylor said the scheme offered offenders both work and skills.
Each year Cambridgeshire Police recover hundreds of stolen or abandoned bicycles.
Those not reunited with their owners are offered for sale at auction.
'Payback'
Unwanted bicycles are sent to the young offenders' unit and once refurbished are donated to victims of crime and disadvantaged families who might otherwise be unable to transport their children to school.
They are also being added to south Cambridgeshire's "bike bank" set up to provide bicycles to young people not in education or employment, who are socially isolated, or who might benefit from cycling for health reasons.
The Littlehey scheme has so far resulted in 25 bicycles being donated to charities, some of which were painted red, white and blue for the Jubilee celebrations.
"This provides real work and qualifications for young offenders to assist with their resettlement on release," Mr Taylor said.
"It also enables them to provide some payback to society when cycles are donated to worthy community causes."