Flying pigs head to the Falklands to 'refresh gene pool'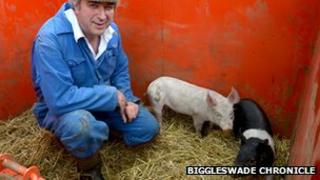 Five pedigree piglets have begun an 18-hour flight from a Cambridgeshire farm to the Falklands in an effort to refresh the island's pig gene pool.
Farmer Guy Kiddy, from Gamlingay, was asked to provide the animals for two farms on the island.
"The last time new stock was introduced there was 1983 and so interbreeding is an issue," Mr Kiddy said.
"A vet is travelling with them, but they are very laid-back pigs. They will just eat and sleep the whole way."
Mr Kiddy, whose family runs Solitaire Farm, exports pigs all over the world, but never as far away as the Falklands, he said.
'Diverse orders'
The two male and two female Hampshires and one male white will make the 8,000-mile (13,000km) trip in a specially-built crate containing food, water and bedding.
They are being transported in the freight hold of an Airbus 340 oil company charter flight that makes the journey every two weeks.
Ian Parker, from Falkland Islands Holdings, which arranged the pigs' transportation, said: "A farmer got in touch and said the artificial insemination programme on the island was not working and interbreeding was becoming a problem.
"He and another farmer ordered the pigs and that's what we're sending them."
He added: "We send a lot of different things out there - everything from toothbrushes to baked beans, but this is the most diverse.
"I've never sent a pig before."