Fitzwilliam Museum Chinese art theft: Four plead guilty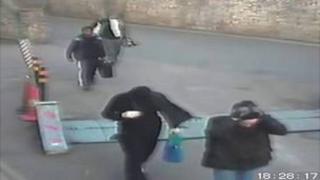 A 15-year-old boy has pleaded guilty to stealing "culturally significant" art from a Cambridge museum.
The boy admitted burgling "ancient Chinese antiques" from Cambridge University's Fitzwilliam Museum in April.
Three men - Patrick Kiely, 29, Steven Coughlan, 25, both from east London, and Robert Smith, 24, from Swanley in Kent - admitted conspiracy to burgle.
All four will return to Cambridge Crown Court in September to be sentenced.
Kiely and Coughlan, both of Gypsies Residential Site, in Eleanor Street, Bow, east London, and Smith, of Rosedale Stables, Swanley, were remanded in custody, as was the boy.
'Great blow'
Eighteen items, mostly made of jade and from the Fitzwilliam Museum's permanent collection, were stolen.
No value was placed on the haul during the latest court hearing, but it was estimated to be worth several million pounds by police.
The museum described their loss as a "great blow".
A spokeswoman for Cambridgeshire Police said the "culturally significant" art had not been recovered.
Among the stolen items in Cambridge were six pieces from the Ming dynasty, including a jade 16th Century carved buffalo, a carved horse from the 17th Century and a green and brown jade carved elephant.
A jade cup and vase which is carved with bronze designs was also stolen, along with an opaque jade brush washer.
A Volkswagen Caddy van stolen from the Tower Hamlets area of east London on 7 April was used in the raid, which happened at about 19:30 BST on 13 April.
The gang entered the museum via a back entrance after using a disc cutter to create a hole in a back wall.