Norovirus-hit Peterborough water park cleared of bug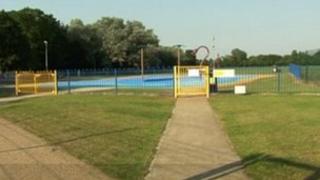 A Cambridgeshire water park where children became sick and developed rashes has been cleared of norovirus, its owners have said.
Bretton Water Park in Peterborough was closed on 26 July with later tests confirming an outbreak of the bug.
Peterborough City Council said the park's water had been drained, but some investigations were continuing at the site.
It is hoped it will be reopened before the end of the school holidays.
The council said it believed the bug was brought in by a person using the facility.
A spokeswoman said: "We appreciate how frustrating it is to have the park out of action, particularly during the school holidays and when the sun is shining.
"We are extremely sorry if anyone has fallen ill after using the water park and we will be working hard to ensure that the risk of a repeat incident is reduced as far as possible."
The council said the park's maintenance and cleaning procedures were up-to-date.