Olympic medallist Louis Smith to get homecoming bus tour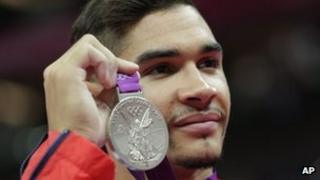 People in Peterborough are being encouraged to line the city's streets on Saturday to welcome home Olympic medallist Louis Smith.
The gymnast, who won a team bronze and an individual silver on the pommel horse at the 2012 games, is to be given an open-top bus tour by the mayor.
The bus will be at the Town Hall from 13:30 BST and will tour the city from 14:00 BST.
People are invited to meet Smith when the tour ends at Cathedral Square.
The short route will take in Vineyard Road and St John's Street, before turning onto New Road and Northminster.
The bus will then drive along Broadway and Long Causeway before parking in Cathedral Square.
Mayor George Simons will present Smith with traditional civic gifts in recognition of his achievements in the games.