Iron Age coin hoard purchased by Cambridgeshire museum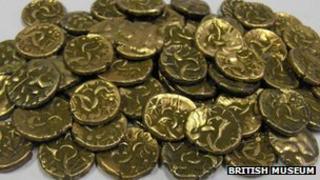 A collection of gold Iron Age coins is to be returned to Cambridgeshire after being found by a metal detector enthusiast two years ago.
The 68 coins, known as the Kimbolton hoard, have been purchased by St Neots Museum.
They were declared Crown treasure in October and offered by the British Museum to St Neots for £22,000.
More cash is now being raised to build a secure cabinet to display the 2,000-year-old hoard.
Curator of St Neots Museum Liz Davies said the coins, known as "staters", were likely to have been the life savings of a wealthy family, buried in the ground to protect them from thieves.
'Exciting evidence'
Gold staters are thought to be the first type of coin to circulate in Britain.
Ms Davies said: "The significance of the coin hoard for this town and the surrounding area is that it provides exciting new evidence of a wealthy Iron Age or Romano British community in our area during the period between Caesar's invasion of England in 55BC and Cladius's conquest in AD43.
"In extending our knowledge of the local population it also enables us to tell more of the story of the history of our area."
The museum secured the coins with £11,000 from the V&A Purchase Grant Fund, a £6,000 grant from the Headley Museums Archaeological Acquisition Fund, its own reserve fund and donations from local supporters.
The coins will remain at the British Museum until sufficient funds are raised for a high security display case at St Neots Museum.