Peterborough fountains turned off after 'misuse'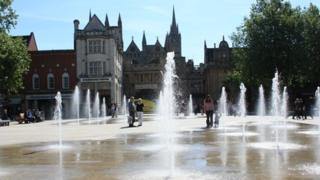 Public fountains in Peterborough's Cathedral Square have been turned off after the city council said people were misusing them in hot weather.
The fountains are usually shut off twice a year for deep cleaning, but they are already having their third clean after a build-up of debris.
A spokesman said children were playing in them and people were washing their feet and dogs in the water.
This had caused a "vast amount" of dirt and waste to enter the system, he said.
Paul Phillipson, executive director of operations at the council, said: "They have been used as a children's play area and that's not what they're designed for.
'Visual attraction'
"We don't want a set of fountains that you can't interact with entirely, and I don't want my children not to be able to push their hands through the water as we walk by.
"But it's the continual playing, drinking the water and the washing of feet and dogs in those fountains that are causing the problems."
He said the council was exploring a number of options to deter people from misusing the feature including putting up advisory signs and adjusting the levels of the jets "to keep it as more of a visual attraction".
A new filtration system which could improve the quality and purity of the water was also being considered, he added.
Mr Phillipson said the extra cleaning would cost the council £3,700.
The council was unable to say when the fountains would be turned on again.