Bretton Water Park stays closed after E. coli discovery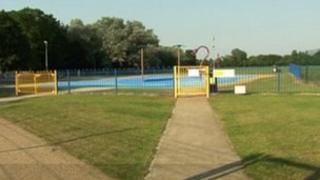 Traces of E. coli have been found at a water park in Peterborough which was due to reopen this weekend.
Bretton Water Park has been closed since 26 July after children became ill due to an outbreak of norovirus.
Owner Peterborough City Council cleaned the park and said it was ready to open on Saturday but tests found the E. coli bacteria in the water.
A spokesperson for the council said the facility would remain closed while further tests were carried out.
"Although early indications were that the results of the water tests would be clear, the results that have come back today show traces of E. coli in the water," the spokesperson said.
"We realise this is a further delay, however public safety remains our top priority and we will only re-open the park when we can be sure it is safe to do so."