Cambridge CCTV coverage cut for three days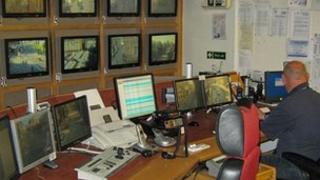 A network of CCTV cameras in Cambridge failed for nearly three days after a city council control room flooded with several inches of water and sewage.
The city was without coverage from 136 cameras from Saturday afternoon until 08:30 BST on Tuesday.
The city council's Antoinette Jackson said: "We did everything we could to get the system back up and running."
Cambridge saw 30mm (1.2in) of rain in 12 hours on Saturday, more than half the average rainfall for the month.
The pressure of the deluge forced a manhole cover off a sewer, which led the Guildhall-based CCTV control room to flood.
A number of shops and businesses also closed due to flooding and part of the Central Library ceiling collapsed, causing minor damage.
Ms Jackson, chief executive of the council, said: "It's the first time we've had a shut down like this in 15 years in exceptional circumstances.
"We had to get the room dry again and needed to get specialists on site to check what damage had been done.
"We're now looking at how we can make the basement more robust to flooding."
Security 'vital'
Staff at Catherine Jones, an independent jewellers on Bridge Street, said they were surprised not to have been informed about the CCTV failure.
Richard Lewis, manager of the store, said: "I can understand why the city council didn't announce the system had gone down, but as a jewellers I was a bit shocked to get the news from a journalist rather than the council.
"The system failure could have been a disaster not only for us as jewellers, but also for the safety of people in the city. It's vital that security is on the streets."
Ms Jackson added: "People said it was unlike anything they'd seen in their life so we must recognise the one-off nature of this.
"We already have robust contingency plans and they got us back up and running within three days.
"I know that sounds a long time to people but we moved as fast as we could to respond to the events on the day."