March man John Whitcombe admits three counts of fraud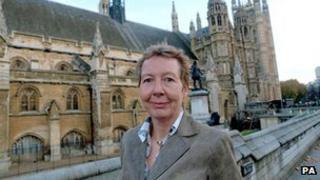 A father-of-15 has been given a suspended prison sentence after admitting running a pair of bogus charity shops.
John Whitcombe ran two shops in March between 2008 and 2009, claiming they were for the NSPCC.
Whitcombe, of Primrose Crescent in March, admitted three fraud charges.
The 77-year-old was given an eight-month prison sentence, suspended for a year, at Cambridge Crown Court on Monday.
After the court hearing, Cambridgeshire Police told how Whitcombe told the landlady of the shops he was a former sheriff in order "to build up a reputation" to "get a reduction in the rent".
He also had a fake character reference from a chief constable which he used to "keep up the ruse", police say.
Whitcombe abandoned the shops in December 2009 after Fenland District Council began chasing him for unpaid rates.
'String of lies'
A police spokesman said: "A month later, officers working on a separate investigation discovered a large amount of paperwork relating to different people, property and banks at Whitcombe's flat.
"An investigation was launched and his web of deceit began to unravel," the spokesman said.
"A letter was also found purporting to be from former Cambridgeshire Chief Constable Julie Spence thanking him for his work in the community."
Det Con Mark Yendley said: "Whitcombe collected donations at the two shops in March claiming he would give the money to charity but instead pocked the cash.
"He lied so he could benefit from reduced business rates then, when he failed to pay those rates, produced a fake character reference from the chief constable in a bid to fob off the council debt collectors," said Det Con Yendley.
"Whitcombe deceived a number of people in the community with a string of lies and we're pleased he has now been brought to justice."