Tributes to Maureen and Mark Tyler after Crays Hill deaths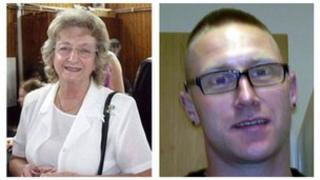 Tribute has been paid to a "loving, caring" 79-year-old woman who was shot dead by her son.
The bodies of Maureen Tyler and her 37-year-old son Mark were found in Pitsea View Road, Crays Hill, on Monday.
Police said Ms Tyler - who has now been formally identified - was shot by Mr Tyler before he turned the gun on himself.
Ms Tyler's family described her as "well respected" and Mr Tyler as a "loving brother and father".
The family described Ms Tyler, who was born in London but lived most of her life in the Billericay area, as "much loved".
'Double tragedy'
Ms Tyler had held various jobs including working at the Crays Hill village shop.
She had two sons with her partner Michael, who died in 2011. She also had an older daughter, who currently lives abroad.
The family statement said: ''She was a loving, caring person who always saw the best in people. She cared deeply about the family and was well respected in her local community and at her local church."
The family described Mr Tyler as "a loving brother and father, who will be sorely missed".
The statement said: "What happened is a double tragedy. The loss of both Maureen and Mark will affect everyone's lives.''
Police want anybody who saw either Ms Tyler or her son in the week leading up to the discovery of their bodies to contact them.
Since the bodies were found Essex Police have been carrying out a "general search" of the bungalow and associated outbuildings.