Mo Farah charity song penned by Cambridgeshire school girl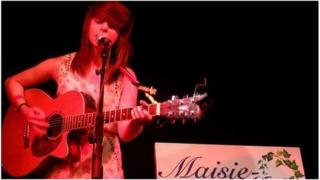 A schoolgirl from Peterborough has written and recorded a song to promote the work of a charity run by Mo Farah.
Maisie-Mae Cater, 15, and her brother Jak, 24, approached the Mo Farah Foundation when it was campaigning for new fundraising ideas.
She spent the summer writing and recording Shake, which is released on iTunes on Monday. The profits will go directly to the charity.
Maisie-Mae said: "I performed it for Mo and he's the loveliest, humblest man."
The Somali-born athlete, who won two gold medals in the Olympics, set up his charity to raise money to help victims of severe drought in the Horn of Africa.
Guitar lesson
"It's a really close-knit, family-orientated charity, not one run by a big board of people," said Maisie-Mae.
"That's the way me and my brother are, so it really inspired us."
She described her brother Jak as a "massive Mo fan".
"And I completely admire him, too," she said. "He's the humblest man and you can't help but love him."
Maisie-Mae performed Shake for the first time in public at the Mo Farah Foundation Ball on 1 September, in front of the Farah family and other famous Olympians including Usain Bolt.
"I wanted the song to relate to Mo and the charity, but that's not all it's about. But there are lots of metaphors about the drought in there and the way I've written it is like a race. It's quite a complex and technical piece," she explained.
"I had a chat with Mo afterwards and he said he liked the song. He even had a go on my guitar and I taught him how to play the G chord," she added.
Diana Nell, from the Mo Farah Foundation, said: "I can't speak highly enough of Maisie-Mae. She really is such an up-and-coming talent, so mature and a wonderful performer."
Maisie-Mae, who hopes to study music at college after her GCSEs, achieved success earlier in the year when her record The Plight reached number 14 in the iTunes singer-songwriter charts.