Peterborough United's new stand could open in August 2013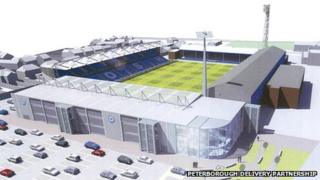 Peterborough United's new £9.5m Moy's End stand could be ready by the start of the next football season.
The city council and the football club have agreed terms for the redevelopment of the London Road ground, which the council bought in 2010 for £8m.
The 2,500-seater stand will include a further education centre.
"We're a massive asset to the city. I think the council's starting to realise that," said Darragh MacAnthony, Peterborough United owner.
"We bring millions into the city and we do masses of work in the community and... I need a modern stadium to bring us forward."
'Moving forward'
The London Road stadium currently seats 14,000 and will eventually increase its capacity to 19,000.
During the redevelopment, Peterborough City Council will pay the Championship club compensation for the loss of terrace capacity.
Mr MacAnthony said: "I've probably spent quite easily £3m to £3.5m in the last four or five years on rent, rates, repairs and taxes.
"When I first came to the club the rent was £1 a year."
He said the redevelopment was "massively important" and added the club and council was now "moving forward in a nice way".
A new long-term lease has been agreed which could allow the club to buy the ground in the future.
Marco Cereste, Peterborough City Council leader, said he hoped to announce the work schedule in October.
"The aspiration of the council and the football club remains for the new stand to be completed for the start of the new football season in 2013," he said.