Cambridge University students get drink and dress advice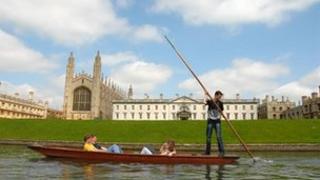 Binge drinking is not an essential part of Cambridge University life, and wearing college gowns in town could make you an "easy target", a video being shown to new students warns.
The university has worked with local businesses and nightclubs to develop the Stay Safe on a Night Out video.
The film, presented by students, was commissioned by a senior tutors' group.
A spokesman said students were more likely to take advice from other students than college authorities.
It is aimed particularly at international students who may not be familiar with "British drinking culture", he added.
'Morning after'
The video recognises Cambridge University has a "drinking culture" but advises that joining in is "not compulsory".
"There might be rules and traditions but you don't need to join in unless you want to," the presenter says.
It also contains advice on sensible drinking from an A&E doctor, a nightclub owner and the police.
The university developed the film with Cambac - Cambridge Business Against Crime - an independent organisation working in partnership the police, city centre management, the council and businesses including many pubs and clubs.
Cambac manager Vicky Hornsby said it welcomed the "initiative by Cambridge colleges to promote responsible drinking".
She described the film as "a great example of a positive partnership between Town and Gown".
Advice to "ditch the gown and the tux before you head out on the town - that way you won't stand out as such an easy target", was a direct result of discussions with nightclub staff, a university spokesman said.
The film concludes: "The advice we've given you today is just that - advice.
"It's your choice how you spend your time at uni, but we've found that some of the best times are the ones you can remember the morning after."
The film was produced by Campuslife, a company that makes informational videos for educational establishments.
The £3,000 production costs are being shared between participating colleges.