Stray firework causes Cambridgeshire barn fire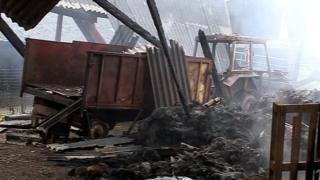 A stray firework has been blamed for a barn fire in Cambridgeshire that burned throughout the night destroying the building and 30 tonnes of bailed hay.
Fire crews were called to New Manor Farm in Ellington Road, Wooley, near Huntington about 21.00 GMT on Saturday.
Firefighters helped the farm's owner Maggie Harris move three horses to safety, but she said pieces of farm machinery were lost in the blaze.
A fire service spokesman said up to 30 firefighters attended at the scene.
Mrs Harris said: "We've lost 30-40 tonnes of hay - this winter's stock for the horses - a tractor, trailer and other machinery.
Cat alert
"We haven't really had time to sit down and think about it yet."
Mrs Harris' neighbour Michael French alerted the emergency services to the fire.
"He'd gone to get the cat in because of the fireworks, spotted the first signs and rang the fire brigade.
"I was in the process of getting in the shower when it happened," said Mrs Harris.
"We've had fire tenders here all night and they are coming back in a few hours time, the fire brigade have been amazing.
"It was like Piccadilly Circus here last night with friends and supporters - people have brought hay to feed the horses tonight and we start to build all over again."