Addenbrooke's Hospital payout as equipment left in patient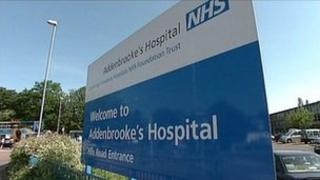 A hospital has apologised and paid £7,000 in compensation to a man who had surgical equipment left inside him following an operation.
Michael O'Sullivan had a liver transplant at Addenbrooke's Hospital in Cambridge last year, but a silicon mat was left inside him, his lawyer said.
Rebecca Brown, from Russell Jones and Walker Solicitors, said the patient's health could have been "endangered".
A hospital spokesman said it "deeply regretted" what had happened.
Ms Brown said a hospital negligence claim was agreed between Mr O'Sullivan and the Cambridge University Hospitals NHS Trust following the mistake in September 2011.
Wrong body part
She said after the initial transplant operation, a further CT scan returned abnormal results and so another operation was carried out.
During that procedure doctors found an A4-sized silicon lapromat inside Mr O'Sullivan, which had been used to protect his bowel while the liver was operated on, the law firm said.
Ms Brown said: "The ordeal has been incredibly stressful for Mr O'Sullivan, whose health could have been endangered by the mistake."
A hospital spokesman said: "We deeply regret the incident and have apologised to the patient."
Last month, health watchdog Monitor said it was taking action against the Cambridgeshire NHS trust after eight "never events" - instances which are never supposed to happen - had occurred between September 2011 and August.
Four botched operations took place at Addenbrooke's in just six weeks last year, including surgeons operating on the wrong body part of a patient.