Fenstanton dairy ceases production after 86 years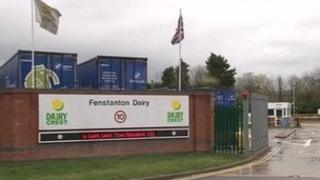 A milk factory which has been at the heart of a Cambridgeshire village for 86 years will cease production later.
The decision to close the Dairy Crest plant in Fenstanton resulted in all 248 employees being made redundant.
The plant used to provide 200 million litres of milk a year to supermarkets and blamed the closure on an "extremely challenging" market.
Dairy Crest began consulting with staff in April and a spokesman said 80% had since found other jobs or retired.
"This decision was not taken lightly, but we believe the restructuring of our dairies business is the right decision for the long-term future of Dairy Crest, and will allow us to reinvest in our other sites," he added.
'Massive blow'
About 70 staff were kept on over Christmas to cope with extra demand and some are expected to remain on-site until March working in the plant's cold store and transport department.
When the company announced its plans last year, Cath Speight, national officer at the Unite union, said it was "devastating news" for staff and would be a "massive blow" for the area.
Sally Lee, from Fenstanton Parish Council, said: "It is very sad for a number of people who've worked there for many years."
However, with the site up for sale, she said villagers hoped a developer might breathe new life into the village.
"We've thought a lot about what we'd like here as a development for Fenstanton. We'd certainly like some houses, but we also have to think about the impact that could have on the village," she said.
"It would be good to have something like light industry or office space to take the place of Dairy Crest."