Teenager plans 'charity shop with a difference'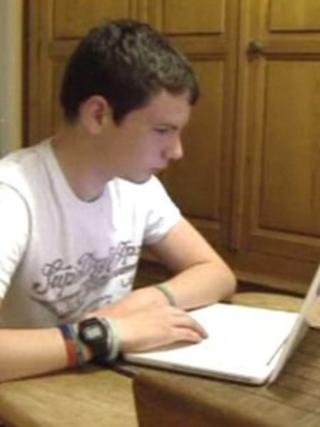 A teenage fundraiser, who has raised nearly £100,000 for cancer charities, is planning to open "a charity shop with a difference".
Callum Fairhurst, 15, pledged to carry on the fundraising legacy of his brother Liam, who raised more than £320,000 for CLIC Sargent before he died of cancer aged 14 in 2009.
Callum wants to set up a shop in Ely, Cambridgeshire, which will be run by young people while raising money for the Liam Fairhurst Foundation.
He said: "It's not any ordinary charity shop because it's not just about raising money for the charity.
"We want to bring talent out of young people and give them something to do. So it'll be primarily run by young people with the help of adults who are professionals in that area of work."
The shop, which will sell clothes, has attracted the support of a "well-known artist and several top designers" but Callum said it is too soon to name them.
Now he needs to find premises.
Liam's legacy
Liam was diagnosed with a synovial sarcoma of the left thigh in 2005 at the age of 10.
He began raising money when Jack Wilkinson, a boy he had befriended in hospital, died from cancer in August 2006.
His fundraising ranged from a sponsored swim to a successful pitch on ITV's Fortune: Million Pound Giveaway show.
In 2007 Liam received a Diana Award, which celebrates the courage, commitment, compassion and selfless acts of young people.
Callum decided to honour his brother's memory by continuing his fundraising and has also received a Diana Award himself.
His shop proposal is quite different from his previous ventures and he hopes it will be "good for the cv" for young people who need to get some work experience.
Callum is appealing to landlords to help him find a suitable shop at a reasonable rent.
Or he would be happy to set up a temporary pop-up shop in premises which have been empty for a long time.
He said: "We really need someone to step up and offer us a hand.
"They could help with rents or to off-set rent against profits, because we are a charity and can't have all the profits for the charity going to rent.
"Remember, if someone steps forward to help they'll also help save lives."
All the money raised by the Liam Fairhurst Foundation either goes to charities such as CLIC Sargent, or to help support families with young cancer patients.