Ice warning for Cambridgeshire on Tuesday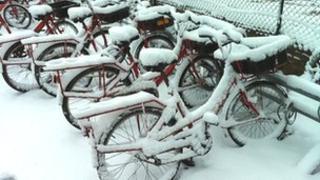 Ice could cause further problems to schools and transport in Cambridgeshire on Tuesday, the Met Office has warned.
It has issued a yellow ice warning for the East of England as temperatures are predicted to fall well below freezing on Monday night.
It said fog could also cause problems for drivers in the morning, but no more heavy snow is expected.
More than 100 schools closed in the county on Monday after Sunday's snow.
A number of crashes occurred on the roads and weather conditions also contributed to long delays on public transport.
The Met Office is advising people to check its website for updates.