Egypt unrest: A Cambridge student on life in Cairo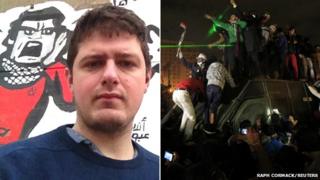 When a Cambridge student was forced to leave his Cairo apartment during anti-Mubarak riots in 2011, he did not think he would face similar unrest when he returned two years later.
Raph Cormack, 25, is studying Arabic, and returned to his old flat near Tahrir Square at the end of December to complete a short language course.
While there, people took to the streets again on the second anniversary of the uprising that toppled Hosni Mubarak, some to protest against the speed of reform, and others to support, the new president, Mohammed Morsi.
"The air in downtown Cairo has been thick with tear gas for two days, with little rest," Mr Cormack said.
"Even our balcony, which is almost 10 storeys up, is sometimes uninhabitable."
Mr Cormack was speaking at the weekend, after days of clashes between police and protesters.
"It started on the evening of 24 January when protesters, I think, started tearing down one of the concrete walls in the city, and police started firing tear gas," he said.
'Tea and shisha'
Areas around Tahrir Square, the focal point of riots in early 2011, and Qasr Al Nil bridge, which leads to the square, have seen protests on a daily basis.
On Monday, one man was killed by gunfire near Tahrir Square.
"The strange thing is, the clashes remain very isolated," Mr Cormack said.
"One street can be full of people sipping tea and smoking shisha, when the next one is almost impossible to walk down for tear gas.
"You can be sitting in a bar or cafe and hear the crash of tear gas rounds, but everything can be calm. It is 2am here, and I can still hear them going off, but the streets are empty where I am."
Mr Cormack's apartment is about 100m (330ft) from Tahrir Square.
"These protests seems to have become more of an annoyance than a worry for many people here," he continued.
"For others however, particularly women, the protests are complete no-go areas.
"I met a woman this evening who told me there had been 19 reported sexual assaults downtown on 25 January - and that was just the reported ones.
"And everyone here is talking about the mysterious Black Bloc, who wear all black, with black masks and no-one knows who they are," he added.
'Normal life continues'
The group made its first appearance last week with a declared aim of fighting the Muslim Brotherhood.
"They have taken recently to blocking off roads, and I saw a number of people in black masks cutting off the traffic to Talaat Harb Square, next to Tahrir, by setting fire to tree branches on the road," Mr Cormack said.
Although he said Tahrir Square had been "blocked for all the time I have been here", he said "generally normal life continues, to a degree".
He has been able to travel freely around the city to meet with friends and attend college.
Asked while still there about the political situation in the country, Mr Cormack said: "In my view, it is high time the Muslim Brotherhood recognised that the opposition has some kind of legitimacy, and that the opposition recognises Morsi's legitimacy too. That is about as much as I want to say on that."
Mr Cormack has now completed his studies and has left Egypt.