Wisbech 2020 Vision plans to regenerate the town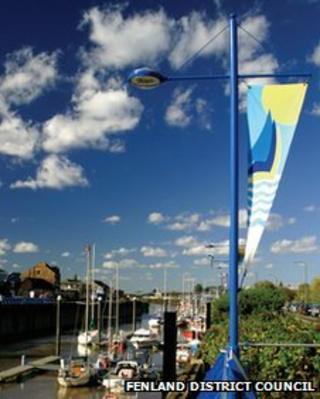 A new 30-point action plan could "regenerate" a Cambridgeshire town by addressing transport issues and the local economy, councillors have said.
Wisbech 2020 Vision is a joint county council and Fenland District Council project, backed by North East Cambridgeshire MP Stephen Barclay.
Funding would come from current budgets, grants and business rates.
District councillor Virginia Bucknor described the plan as a "wish-list" which had not been costed.
Independent Mrs Bucknor said she "wholeheartedly supported" the aims of the plan, drawn up by the Conservative-led authorities.
'Dilapidation and deprivation'
A spokesman for the district council said: "The plans set out a series of about 30 actions all aimed at making Wisbech a great place to work, live and visit.
"They cover a wide range of things but include a new in-depth study by the University of Cambridge on the town's economy, efforts to tackle the problem of derelict buildings, improved marketing to attract more visitors, and better public transport links, business and retail opportunities."
Wisbech 2020 Vision was devised after six months of workshops and consultations with potential partner organisations and the public.
Alan Melton, leader of the district council, said the it was a way of addressing the reputation of the town.
He said: "When people say 'Wisbech', they mention dilapidation, deprivation and poor infrastructure.
"We're going to be very pro-active in addressing these concerns.
"In the present economic circumstances you could say it's a wish-list, but it's something we can work to."
Mrs Bucknor said the plan had "excellent aims" but said funding would need to be carefully identified if they were to "come to fruition".