Duncan Bell killed by Roy Allison in 'drug revenge', inquest hears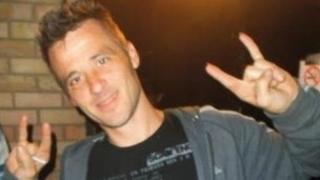 A father killed the man he blamed for causing his son's drugs overdose death before hanging himself in the grounds of a crematorium, an inquest has ruled.
Roy Allison, 65, stabbed to death Duncan Bell, 34, three months after his martial arts fighter son Roy Jr died.
Peterborough Coroner's Court heard Mr Allison Jr, 28, died last March after taking MDMA - also known as ecstasy.
A verdict of unlawful killing was recorded by the coroner over Mr Bell's death.
Coroner David Heming, overseeing three separate inquests, said he was satisfied Mr Allison Sr had taken his own life and recorded a verdict of misadventure in respect of Mr Allison Jr.
The inquests heard how Mr Allison Jr, with his friends Mr Bell and Grant Maker, had been celebrating his 28th birthday at the home he shared with his father in Hetley, Orton Goldhay, Peterborough, on 20 March last year.
'Consumed by grief'
It was heard the trio consumed MDMA, cocaine, beer and spirits during the evening, but the next day Mr Allison Jr was discovered lying alone and lifeless in his bedroom, while Mr Bell and Mr Maker suffered no ill effects.
A post-mortem examination found he had died from an ecstasy overdose.
In the months after his son's death, the court heard, Mr Allison Sr became "consumed by grief" and was so convinced Mr Bell was responsible for supplying his son with the MDMA he decided to kill him.
Mr Bell was found dead at Mr Allison Sr's address on 1 July after being knocked unconscious and stabbed six times.
A large cardboard sign was then left next to Mr Bell's body, which read: "This drug dealer took my son, took our whole lives, I've just took his."
Mr Allison Sr's body was found just hours later hanging in the grounds of Peterborough Crematorium.
'He was psychotic'
Det Con John Cox of Cambridgeshire Police told the inquest: "It's possible that Duncan may have mentioned something that happened that evening that may have directed Roy Sr towards him as the culprit.
"He supplied the drugs that ultimately killed his son."
Mr Cox added Mr Allison Sr also wrote a lengthy letter to police in which he set out his intention to kill Mr Bell, from Winyates, Orton Goldhay.
The court heard Mr Allison Sr mentioned suicide so many times in the months after his son's death to family members that it had become almost a joke.
It was told he had bought a double burial plot for him and Mr Allison Jr and had both their names inscribed on a headstone.
Giving his verdicts, coroner Mr Heming said to Mr Bell's mother, Diane: "We all know that it's a terrible tragedy, we know that Roy Sr had become consumed by grief, but the reality is that he had formed an intention and carried out a violent, brutal and vicious attack on your son."
Speaking outside court, Ms Bell said: "Duncan was not a drug dealer, he had in the past had a drug problem."
Asked how she felt about Mr Allison, she said: "I forgive him. He's a man that had lost his son, his world had disappeared.
"He was psychotic, he was out of his mind.
"He wanted some kind of justice, he wanted a life for a life, it's just a shame that it was my boy and Grant was very lucky that he never got him."