Mars plant closure plan risks Peterborough pet food jobs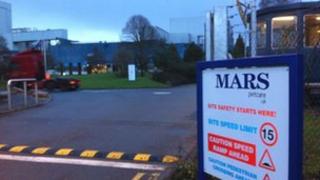 More than 80 jobs could be lost after a pet food company announced proposals to close its Peterborough plant.
A spokesman for Mars Petcare, in Shrewsbury Avenue, Woodston, said it was consulting its 82 staff.
He said the proposal followed a "review of capacity requirements" and would enable it to invest in other sites.
The company did not wish to comment on the claims of one worker, who told the BBC the closure would also affect 50 contract staff at the plant.
The employee said: "I work at the site and it has been the biggest shock ever to be told this news.
"It's not only the people who work for Mars but all us contractors that have lost our jobs, a total of about 130 people."
Other sites
In a statement, Mars said: "This proposal follows a review of capacity requirements at our dry pet food manufacturing sites across Europe.
"The proposed changes, if they proceed, would enable us to continue investing in industry-leading facilities and people at our other UK sites."
If the closure goes ahead, he said Mars expected to be able to offer "a substantial number of our 82 associates employment at our other sites, such as the Melton Mowbray pet food factory".
The Peterborough factory was opened in 1974 and produces dry pet food brands including Pedigree and Whiskas.