Peterborough pigeon pest controller needed, says councillor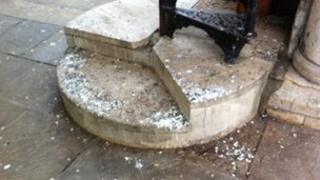 A pigeon pest controller is needed to keep Peterborough clear of droppings, a city councillor has said.
Independent John Fox said: "The birds are all over the place and everything's covered in poo. The steps of the beautiful guildhall are ruined by it."
He called on the council to employ a pest controller to deal with the birds.
A spokesman said: "Like many other councils we have no policy to control or cull pigeons." He encouraged people not to feed the birds.
Mr Fox said: "This city is trying to encourage a European cafe culture, but that's not going to happen as things are.
'Prefer a sandwich'
"There are four big flocks of feral pigeons and they are becoming a pest.
"They would go back to the rural areas if people would stop feeding them. Right now, they seem to prefer to come here for a sandwich."
He said he planned to talk to the council about the possibility of asking businesses to "chip in" and employ a pest controller for Peterborough.
Paul Phillipson, executive director of operations for the city council, said: "Pigeons are common to every town and city in the UK and Peterborough is no exception."
He said culling or controlling could "only have a short-term impact".
"Food is the main cause of all-year breeding and overcrowding, and the best long-term solution to deter large groups of pigeons is to refrain from feeding them," he added.
"Therefore we encourage people not to feed the pigeons or drop food in the city centre."