Rainbow LGBT flag is 'pathetic', Cambridgeshire councillor says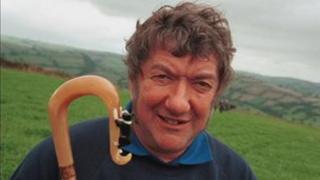 Flying a rainbow flag to support Lesbian Gay Bisexual Transgender (LGBT) History Month has made a council a "PC laughing stock" a member has claimed.
Independent Robin Page wrote to councillors at South Cambridgeshire District Council saying the annual event was "pathetic".
He said: "Why should a flag be flown about somebody's sexuality? What next, a heterosexual flag?"
A spokesman said the comments did not represent the views of the council.
Lara Jaffey, director of SexYOUality, a Cambridge-based organisation which supports young people in the LGBT community, said: "This month is not about granting privileges to certain groups within society. It is about challenging inequalities and promoting diversity.
"Councillor Page's comments are a shame, as SexYOUality has an excellent and strong partnership with the local authority in the work we carry out in schools."
Mr Page sent an email to some colleagues in response to a council reminder that the flag was being raised "to celebrate the lives and achievements of the LGBT community".
'Totally barmy'
His email read: "The event is pathetic and makes the council a PC laughing stock. In fact it shows a lack of respect to the rest of society.
"What about those who are celibate - who have achieved much throughout history - is a flag being raised for them?
"Then of course we could have a flag celebrating vegans? And what about a flag celebrating the achievements of all those with irritable bowel syndrome?
"I want to be part of a community - not a division in a conglomerate of divisions."
Conservative Tony Orgee, chair of the council, described the comments as "very disappointing".
He added: "As a major local employer we are actively committed to promoting equality and diversity in the workplace as well as representing all our residents across the district."
Cambridge councillor Sarah Brown, also a member of the national Liberal Democrats LGBT branch, said: "The comments are unhelpful to say the least, and mean-spirited.
"It seems he is talking about being part of a community as long as everyone in it is the same as him."
But Mr Page said: "It is totally barmy. The whole thing is politically-correct madness.
"I couldn't give a stuff what any pressure group thinks. I hope I'm talking common sense and I think I'm talking on behalf of ordinary people."