Peterborough's £75m waste plant deal signed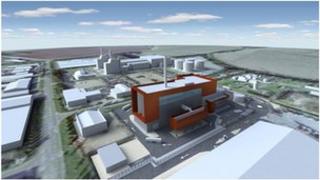 A £75m waste plant is to be built in Peterborough after the Conservative-led city council agreed a contract with waste management company Viridor.
The "energy from waste" facility could reduce the amount of non-recycled rubbish sent to landfill sites by 94%, the council has said.
It would also generate electricity to be sold to the National Grid, it added.
Liberal Democrat leader Nick Sandford said it was "not a prudent use of council funds nor particularly green".
The decision to invest in the new facility was made "in preparation for the 140,000 tonnes of waste the city is predicted to produce per year by 2040", a council spokesman said.
'Greener economy'
Councillor Matthew Lee, deputy leader of the council, said: "We have committed ourselves to pursuing a better alternative to dealing with our waste than sending it to landfill.
"We have tackled this issue head-on and have gone for a solution that is better for the environment and significantly better for the taxpayers of the city."
Rising landfill costs prompted the council to consider other options for dealing with waste, he said.
In 2010-11 the council spent about £3m sending waste to landfill at a cost of around £70 per tonne. By 2014-15 the same amount of waste is predicted to cost £100 per tonne or £4.6m, an increase of more than 50% (£1.6m) in four years.
Robert Ryan, head of contracts at Viridor, said: "Our proposed solution will efficiently complement the council's existing waste prevention and recycling schemes, and will contribute towards its commitment to become the UK's environment capital.
"The plant will also play an essential role in moving towards a greener economy by creating around 25 permanent jobs."