Rare albino wallaby born at Linton Zoo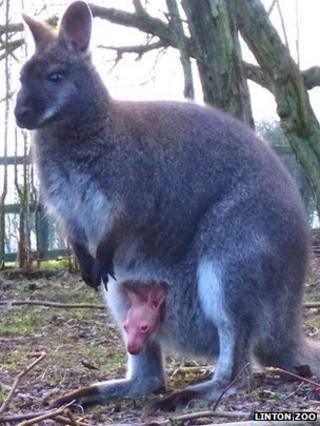 A rare albino wallaby has been born at a zoo in Cambridgeshire.
The bald joey, with pink eyes, was spotted by a member of the public after emerging from its mother's pouch at Linton Zoo, near Saffron Walden.
The zoo believes the albino red-necked wallaby, which will grow white fur, is a descendant of one given to the Queen.
Zoo director Kim Simmons said staff initially got "a bit of a shock", but the joey was now being well looked after by its parents Kylie and Jason.
"It's been in the pouch for a little while now and we've been able to see it wriggling around, but when it popped its head out for the first time we got a bit of a shock - we didn't really expect it to be an albino," said Ms Simmons.
"[Our wallabies] are probably descended from albinos that were donated to the Queen on a state visit to Australia in 1962. On the very odd occasion an albino will be born and we've got that very odd occasion."
Albino wallabies are believed to be extremely rare and can change hands for hundreds of pounds.
The albino condition, caused by a lack of colouring pigments in the skin, can lead to the animal being susceptible to sunburn, but the zoo said its wallaby enclosure had lots of shade and it should lead a "normal life".
It is not yet known if it is male or female, but names being suggested included Snowy, Frosty and Alf - related to the TV character which stands for Alien Life Form.