Ferret found in wheelie bin in Waterbeach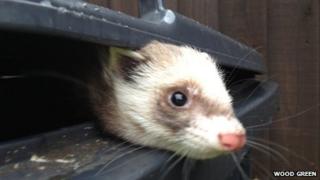 A bin man said he was shocked to find a ferret popping its head out of a wheelie bin while on his round in Cambridgeshire.
Darren Chandler, 30, was emptying bins on Flint Lane, Waterbeach, when he spotted something moving.
"I just lifted the lid before hooking it up to the lorry. I realised it was a little ferret and got one of my colleagues to fetch a box," he said.
The one-year-old ferret, now called Flint, was taken to an animal charity.
Wood Green's small animal welfare manager Marie Channer said: "It is not uncommon for ferrets to find their way into bins and skips to find food.
"However, if it wasn't for Darren, there is a chance Flint wouldn't be with us today.
"This little boy is very friendly and so we believe he once belonged to a family.
"Unfortunately nobody has come forward for him and he isn't microchipped, so we haven't been able to reunite him with an owner. Therefore he is looking for a new home."
The charity said it currently had 25 ferrets looking for new owners.