Duxford war museum's Spitfire work 'preserving history'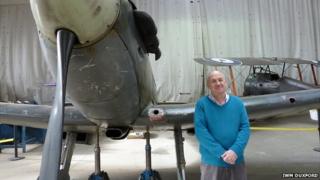 It is just one of the many Spitfires that were flown to protect civilians during the Battle of Britain.
Curators at the Imperial War Museum in Duxford believe it was directly involved in destroying or damaging eight German aircraft during World War II combat.
However, the biggest threat now to one of the first Spitfires ever to be built is old age - posing one of the greatest challenges to Chris Knapp and his team, who must ensure it is preserved for a new generation.
Seen by millions hanging from the atrium of the famous Lambeth museum, which is undergoing a £35m refit, it was transferred in bits by lorry to Cambridgeshire in December.
Provisionally checked over and with its wings back on, it will soon be suspended again in its temporary home until the end of the summer.
But, as Mr Knapp has found, even the mightiest fighting machines can suffer some tedious problems.
Remarkable condition
"What we're trying to track down at the moment is an inner tube. We've got a flat tyre," laughed conservation manager Mr Knapp, who has been conserving planes at Duxford for 23 years.
"Because it's an early mark Spitfire we just can't get that inner tube at the moment. The trials and tribulations of being a conservator."
But apart from the minor niggles, Mr Knapp said the Mark IA is in fantastic condition and is the best preserved early model of the fighter plane he has ever seen.
Built in Supermarine Aviation in Southampton in 1940, the Spitfire was used by No. 609 West Riding Squadron, stationed at Middle Wallop in Hampshire.
It was flown by 13 different pilots on 57 operations during the Battle of Britain and it successfully brought down a number of aircraft.
At least four of the German casualties came from pilot Noel Agazarian, who survived the Battle of Britain, but was shot down in his Hurricane in Libya in 1941.
After circulating around a number of RAF bases, it was eventually transferred to London's Imperial War Museum in 1946, where it has been suspended from the ceiling ever since.
Mr Knapp said its remarkable condition was not just down to pilot skill, but also a lot of luck.
Keeping stories alive
"In this state as far, as I'm aware, this is the best preserved Mark I there is. I believe there's one, possibly two restored Mark I's in airworthy condition," he said.
"It looks its age, but it is sound - we've got no major corrosion problems. One or two little bits of damage that were caused in the past from handling or whatever, but on a whole it is pretty good.
"The conservation work is really just inhibiting, there's nothing else we've got to do. It's just protecting the insides of the object with inhibiting oils to prevent any corrosion creeping in in the future.
"There will be a bit of touching up of paint that was damaged when it was suspended in the '80s, but it will look almost identical to what it did when it came out of the building in December."
Mr Knapp said conservation is about more than just preserving an old object - it is about keeping the stories about those objects alive, and he said he was thoroughly enjoying the "challenge" that had been put in front of him.
"Preserving our history is very important. You've got to bear in mind museums are about people, they're not really about objects.
"We use this Mark I Spitfire to tell the story of the young men who flew in them and fought in them and about the men and women that built them and maintained them.
"It is a very significant part of our history."