Cambridge EDL and UAF protests: Two charged and man fined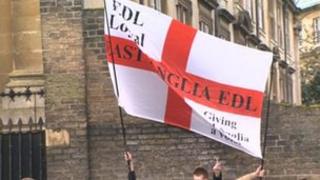 Two men have been charged and a man has been fined after they were arrested at two political marches in Cambridge.
The English Defence League (EDL) protested against plans for a mosque on Saturday, prompting a counter-protest by Unite Against Fascism (UAF).
Police said a 56-year-old man and a 23-year-old man, both from Cambridge, have been charged and bailed following the weekend's demonstrations.
A 24-year-old Thetford man was also fined £80 for a public order offence.
Cambridgeshire Police said the 56-year-old man was charged with a racially-aggravated public order offence and assaulting a PC.
The 23-year-old man was charged with a public order offence and criminal damage. Both are due to appear at Cambridge Magistrates' Court on 11 March.
A 25-year-old Norwich man, who was also arrested on Saturday, received a police caution.
About 500 people took part in the UAF march through the city and about 30 attended the EDL protest, police said.
They said their plan to manage both demonstrations had worked well.
Officers from Essex, Bedfordshire, Hertfordshire, Norfolk and Suffolk were drafted in to help their Cambridgeshire colleagues.
Plans to build a £15m mosque on Mill Road were approved by the city council last year. It is expected to cater for up to 1,000 worshippers.